Low Voltage Mounting Bracket, 2-Gang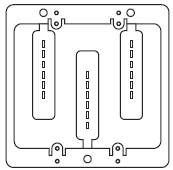 SKU: MPLS2
$40.85

Sold in sets of 10 per package.

Double Gange Caddy Low Voltage Mounting Bracket
Caddy Low Voltage Mounting Brackets New for low voltage class 2 wiring. Ideal for installing wall phones, phone jacks, TV antenna/cable and voice/data wall outlets!
Eliminates the need for an electrical box when installing low voltage Class 2 wiring.
Provides positive support with 2 locking screws (included).
Mounts any standard low voltage device in 1/2" through 1 1/4" walls.
Makes wire "fishing" easier.
Installs with a drywall saw and screwdriver.
Add to Cart | View Cart