Large Speaker Enclosure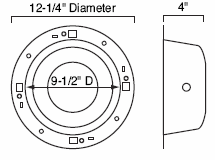 SKU: LSE-2
$63.30

Sold in sets of 10 per package.
Buy 5 packages for $61.30 each.
Buy 10 packages for $59.20 each.
Buy 20 packages for $57.20 each.

LSE-2 Enclosure may also be used in architect specified 'fixed' conduit systems where no Speaker Truss is used and the Speaker Grilles screw directly into the Back Can (enclosure.) Conduit knockout for 1/2' and 3/4' conduit. NOTE: if the LSE-2 Enclosure is used in this method, you must order four (4)TN-8 Tinnerman nuts for each LST-2 (see accessories)
HS-4, Hanging Straps, (4 -4' long straps per box) to hang LSE-2 in a metal lathe and plastic ceiling if required. (See accessories page) Customarily, philips head screws (#8 x 1 1/4" white) are supplied. However, we can supply slot head screws at no extra charge.
Architects' and Engineers' Specifications page at end of section.
Our LSE-2 Speaker Enclosure is designed for use with our LST-2 Speaker Truss. The LSE-2 Enclosure will work with the Soundolier, Lowell, and Quam (as well as others with mounting holes as indicated above) Support Trusses for 8" speakers.
Baffles (Grilles) and Back Boxes
See page 17 of our catalog for a list of baffles (Grilles) adn Back Boxes that the LST-2 and LSE-2 will work with.

Add to Cart | View Cart