Large Speaker Support Truss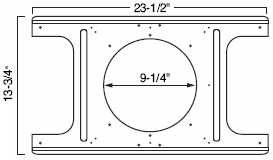 SKU: LST-2
$38.50

Sold in sets of 10 per package.
Buy 6 packages for $37.00 each.
Buy 12 packages for $35.50 each.
Buy 20 packages for $34.00 each.

LST-2 Speaker Support Truss is to be used when the architect has specified or the electrician has already installed a conduit and back box system that will not adapt to our SST-1 Truss, or when any of the following back cans or torsion-spring grilles are to be used. The LST-2 can be used with Bose Model 102 speakers on ceiling tiles 1/2" or less in thickness.
Complies with the mechanical and acoustical requirements of U.L. 1480(UUMW) and U.L. 2043 test standard, for use in Air Handling-Spaces.
Baffles (Grilles) and Back Boxes
See page 17 of our catalog for a list of baffles (Grilles) adn Back Boxes that the LST-2 and LSE-2 will work with.

Add to Cart | View Cart