Speaker Support Truss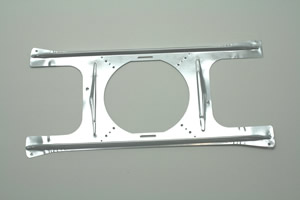 SKU: SST-1
$38.00

Sold in sets of 10 per package.
Buy 1 packages for $38.00 each.
Buy 5 packages for $36.50 each.
Buy 10 packages for $35.00 each.
Buy 20 packages for $33.00 each.
Complies with the mechanical and acoustical requirements of U.L. 1480(UUMW) and U.L. 2043 test standard.
Made of noncorrosive steel for strength and durability.
Complete installation instructions with all purchases.
SST-1 works with 2'x4', 2'x2', and 4'x4' lay-in type ceilings.
When used with the 4' ceiling tile, use the Extender-Rails, Model ER-2/48 (see accessories page).
SST-1/18 works with the 18' (20') x 60' lay in ceilings.
SE-1 Speaker Enclosure will work with the SST-1, SST-4, and SST-1/18 Support Trusses.
Philips-head screws (#8x1.25" white) are supplied. Screws up to 3' are available.
AT-4 Adapt-O-Tabs are available to mount speaker to SST-1 or SST-1/18 without using grille. This allows the speaker to be placed directly on the ceiling tile. In most cases sufficient sound will penetrate the ceiling tile for good low-level sound distribution.
Baffles (Grilles)
See page 16 of our catalog for a list of baffles (Grilles) that the SST-1 and SE-1 will work with.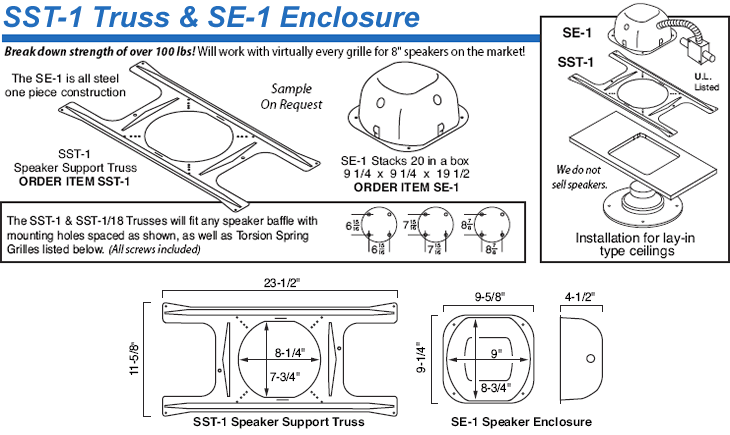 Add to Cart | View Cart