Speaker Enclosure - Use with SST-* Support Trusses

SKU: SE-1
$60.50

Sold in sets of 10 per package.
Buy 5 packages for $58.50 each.
Buy 10 packages for $56.50 each.
Buy 20 packages for $54.50 each.

All steel, one piece construction. Thoroughly tested for undesired resonance. NONE WAS FOUND. No deadening material needed The SE-1 passed the U.L. 1480 Listing Standard (UUMW) and other frequency tests as well as a subjective listening test administered to a panel of eight industry professionals.Test results are available upon request.Our SE-1 Speaker Enclosure, when used in conjunction with our SST-1 (or SST-1/18) Speaker Support Truss as illustrated, will combine with any U.L. Listed 8' speaker assembly in this configuration to make a complete assembly that is U.L. Listed for use in air-handling spaces. (U.L. 1480 Listing andU.L. 2043 Test Standard.)
Baffles (Grilles)
See page 16 of our catalog for a list of baffles (Grilles) that the SST-1 and SE-1 will work with.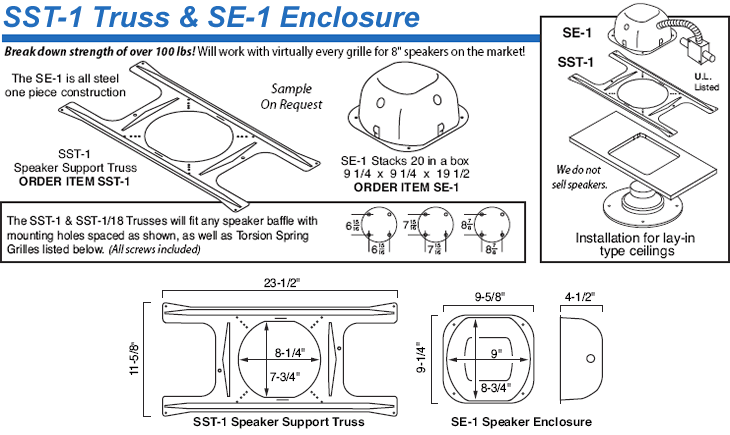 Add to Cart | View Cart